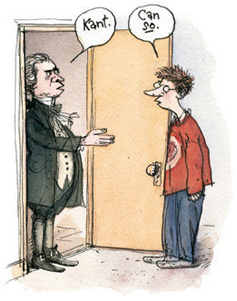 Wittgenstein's view of intention (not necessarily moral intention) = diametrically opposed to Kant's picture of the will, understanding and maxim. For the former the result (action) is that matters; for the latter, it is the will (intention) that matters.
I thought that the Kantian view hinged upon one's knowing (it being knowable) his own will perfectly: I.e., a god's-eye view of the soul. Very internal. Does this make sense?
Or to keep it in Kantian terms, you can never know your self in itself (given in the
CPR
, you can only know an appearance of your self); the examples given in the
Groundwork for the Metaphysics of Morals
are crafted to isolate the will, so that one can know his will perfectly. But this seems to be a merely empirical, psychological testing of the will. Kant grants that you can't know your self in itself. At best you're left with a representation of a representation.
But I still lack even a clue as to what Wittgenstinian ethics would look like.
I started reading last night before bed Rorty's
Philosophy and the Mirror of Nature
. It's the most exciting book of philosophy I've read in such a long time! (A probably effect of its being the most current one I've read in some time.)
Dread and fear should not be confused;
By dread I'm inspired, fear I'm amused.